Join us on March 22 at our sort of annual celebration of the mighty potato. Once overlooked, the potato has now claimed its rightful place in the culinary being feted by no less an organization than the United Nations who made 2008 the International Year of the Potato! Non-believers can check it out for themselves at http://www.fao.org/potato-2008/ Of course the potato and Ireland go hand in hand and it is no coincidence that our celebration should take place so close to St. Patrick's day. Be sure to bring your Irish spirit.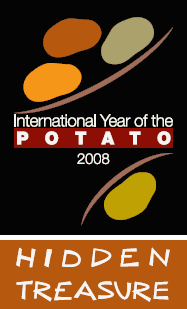 If you have been with us before you will know that this is no ordinary get together! We truly celebrate the potato with the amazing potato pot luck. Bring your favourite potato dish (only potato dishes will be served) and share your culinary creativity with your friends. Prizes galore for the best potato entries in the categories of best dish, most creative presentation, most honoring of the spud and most likely to make you happy.
This year, to add to the Irish flavour, we are also including the best drink category. If it has an Irish flavour and if it speaks to the spud it is a likely winner!
Remember, at the end of the day its really all about the craic!
See you March 22 for some tremendous craic!
For those of you unfamiliar with the term "Craic" we offer the following definition:
Craic

Irish word for fun/enjoyment that has been brought into the English language. Useage: when mixed with alcohol and/or music. 'Bhi craic agus ceol againn' : We had fun and music.
Fun doesn't really cut it though. General banter, good times had by all. Also, a person who is good fun/great company.
It was great craic.
She's great craic when she gets going.
He's great craic when he has a few pints on him.
The craic was mighty.
Note: Very tricky to get away with saying this in the US without getting strange looks for police officers.

The History Channel has some fantastic information about St. Patrick's Day and the history of the event. Click HERE to visit the History Channel.